Branded (Sinners #1) by Abi Ketner and Missy Kalicicki
YA Science Fiction/Dystopia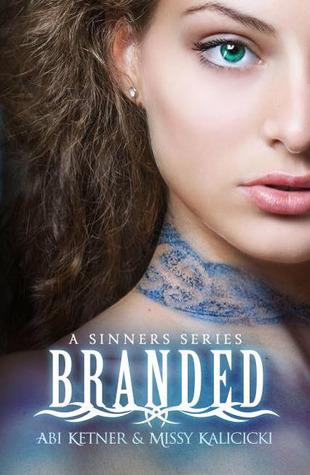 Fifty years ago The Commander came into power and murdered all who opposed him. In his warped mind, the seven deadly sins were the downfall of society.




To punish the guilty, he created the Hole, a place where sinners are branded according to their sins. Sinners are forced to live a less than human existence in deplorable conditions, under the watchful eye of guards who are ready to kill anyone who steps out of line.

Now, LUST wraps around my neck like thick, blue fingers, threatening to choke the life out of me. I've been accused of a crime I didn't commit, and the Hole is my new home.

Constant darkness.

Brutal and savage violence.

Excruciating pain.

Every day is a fight for survival.

But I won't let them win. I will not die in the Hole.

I am more than my brand. I'm a fighter. My name is Lexi Hamilton, and this is my story.
Wow. Just wow. There are no words that I could give you that would make you understand how amazing this book is. It's just impossible. There was just so much suspense and drama that I hated having to put it down to do normal life stuff like work and sleep. I actually had one of those moments where I said I was going to just read it for a few minutes before going to bed and then the next thing I knew an hour had passed.
I was first drawn into this one by the cover. Then as I read the synopsis I knew it was the type of story I could fall into. Dystopian novels do that. They suck you in and give you a feel of a different world where people are constantly fighting to survive. It helps when you have an author who can write it in the perfect way and this is a perfect example of that.
The characters were well built as well. Straight from the beginning you could relate to Lexi because she was so strong, especially when her whole world was falling apart. Yeah, she threw up and screamed a lot but when I say she was "strong" I mean she is a survivor. She has lost her "human" status and became something basically like scum in the eyes of the human race all for something that she didn't really do. Her guard, Cole, is likable as well. At first he treats her like every other person who has a brand but eventually he became protective of her and then falls in love with her.
Overall, this is a fantastic novel/series. It draws you in and keeps you trapped in there wanting to get to the ending as soon as possible because the wait is making you anxious and driving you insane. I loved every second of this novel and can't wait to read the next one. I received this ebook from NetGalley.com for my honest review. If you don't know what NetGalley is you should definitely go take a look, it's an amazing site for readers and fellow blog writers.