Sweet Unrest by Lisa Maxwell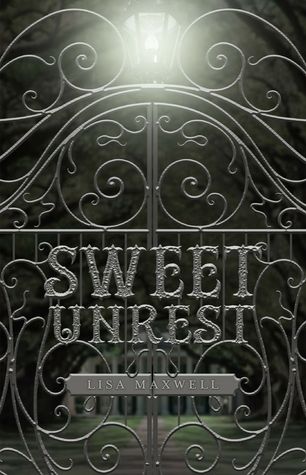 Lucy Aimes has always been practical. But try as she might, she can't come up with a logical explanation for the recurring dreams that have always haunted her. Dark dreams. Dreams of a long-ago place filled with people she shouldn't know…but does.




When her family moves to a New Orleans plantation, Lucy's dreams become more intense, and her search for answers draws her reluctantly into the old city's world of Voodoo and mysticism. There, Lucy finds Alex, a mysterious boy who behaves as if they've known each other forever. Lucy knows Alex is hiding something, and her rational side doesn't want to be drawn to him. But she is.

As she tries to uncover Alex's secrets, a killer strikes close to home, and Lucy finds herself ensnared in a century-old vendetta. With the lives of everyone she loves in danger, Lucy will have to unravel the mystery of her dreams before it all comes to a deadly finish.
My thoughts: Sweet Unrest was provided to me from NetGalley.com, if you have not already you should take a look at that site. It's my favorite site and gives book bloggers special access to ARC's to help promote the author. It's a win-win situation!
How awesome is this cover? It's mysterious and intriguing and actually a quite simple cover. I love it! Going past the cover was the best part. This novel was a wonderful ride. It confused me but not in a terrible way but in a way that made me want to continue reading. I have never read a book that surrounded voodoo so it was pretty interesting to take that adventure.
Lucy and Alex's story is amazing. Lucy is a very strong character who just needed a bit of nudging to become the hero. She was forced to move to New Orleans basically to work with her family and was pushed into the world of voodoo. She took it all like a champ though. She pushed through and even met her soul mate. Alex was annoying though. Clearly something was off about it straight from the beginning but the author didn't dwell on it at all. It took awhile for it to be acknowledged.
The main thing that got to me was the fact that there wasn't a straightforward happy ending. The girl didn't get the guy and live happily ever after like we have all come to expect these days. I have to admit it wasn't all that terrible not getting that ending. Alex's problem going into the story was that he should have died a long time ago and moved on instead of being stuck on earth as a ghost. His beloved is reborn and he is forced to watch her live while he stays behind. His ultimate goal was to move on to the next life and that goal was achieved. You couldn't ask for a better ending. This is good writing. You don't have to follow the pack and have a teenager find the love of her life on her first go. This book proves you don't need that to have a fantastic book. I love it! In the end he achieves death and promises that someday he will reunite with her even if it takes him many lifetimes. That is a beautiful ending.
Overall, I loved everything about this book. I'm kind of sad it wasn't made into a series. I think this one could have been a fantastic idea for a series and be very successful. Voodoo is not something that's explored very often and I think that it would be a great idea. It's a captivating story and I am looking forward to see what this author has next for us.
Cover: 5/5
Writing: 5/5
Character: 5/5
Overall Score: