Redeemed (House of Night Series #12) by P.C. and Kristin Cast
YA Fantasy/Parnormal
Rating: 5 Stars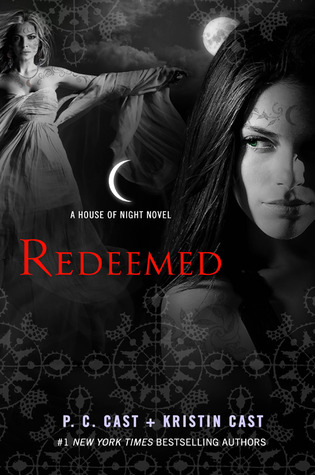 In REDEEMED, Zoey and her friends face the ultimate battle with evil, which will determine the fate of the world, both human and vampyre. Neferet has finally made herself known to mortals as a Dark Goddess, and she is loose on Tulsa, OK and the world. No single vampyre is strong enough to vanquish her - unless that creature has the power to summon the elements as well as the ability to wield Old Magick. Only Zoey Redbird is heir to such power…Find out who will win and who will lose in this epic battle of Light versus Darkness.
My thoughts:
I remember the day I picked up the first House of Night novel. It was just after it first released and I had never heard of it. I was still in high school at the time and my new English class really wanted to get us back into reading so we were required to read a certain amount of books and write papers about them. To get us back into reading my teacher set up a field trip to bring us to the local Barnes & Noble to pick out books that the school will buy for us, or if they don't want to then she would personally cover it. I ventured back to my fantasy and paranormal section and I came across Marked. I didn't grab it at first because I want to weigh my options but eventually I went back and I grabbed it. That was the only book I got that day. The minute I started reading it I could not put it down. It was a new take on vampyres and it was amazing.
Eventually I bought more books in the series. I wanted to share my love for this series I created the first ever House of Night Facebook page, which is still growing. That page opened so many doors for me. I worked freelance for St. Martin's and I have met so many amazing people. It also made me realize I wanted to be a writer. It made me rethink my whole life and I ended back in school for a Bachelor's Degree in Creative Writing for Entertainment at Full Sail University. In one year I will be graduating and hopefully have an amazing career in writing.
This series changed my entire life and I will never forget that. P.C. and Kristin Cast are my idols. I owe them so much and they don't even know it. Someday I hope to meet them and tell them. Their tour never brings them to Wisconsin so I have never gotten the chance. I am thrilled and sad to write my last review for their series. It's not over yet because soon there will be a movie series and even more to talk about. For now, we will stick with this review.
When we last left the House of Night Zoey Redbird has made some mistakes and believes that she is now a murderer. As the audience we know this not to be true. Neferet killed those men and many others. She has ousted herself to the world as the evil person she is.
I have waited seven years for this finale and I can say that I was not disappointed. I don't want to give any spoilers so I'm going to try be as giving as I can without giving out any important pieces. This novel is the perfect ending to such a long series. A story that took twelve books to share it with us and to me it was well worth it.
In the beginning the story was about Zoey but as the series continued the story grew into more than that. We started jumping into someone else's head and eventually each character had their own story to tell and I think P.C. and Kristin Cast did it beautifully. They all had their flaws but they were well rounded and had their part in main focus of the story. Of course, Aphrodite is the one who grew the most out of all of them. In the beginning she was the enemy but became a major part of the Nerd Herd's circle.
There is so much more at play in this novel. We have Old Magick was that was introduced a few books ago but we also have a much darker Neferet. It has been a very violent journey for Zoey but this one is different from the rest. This novel is dark and full of death, definitely a lot more detail and horror. It's like the series grew up with us growing darker and darker with each book.
To finish this review I have to say again how much I enjoyed this series. It was a wonderful journey and it could not have ended any better. The Casts created this entire new world and didn't hold back. They gave us many extra books to make the experience even better, like the Fledgling Handbook 101 and all of the novellas. This book, like all of the others, pulled me in and wouldn't let me go until the very last "The End" was read. It's sad to see such a beautiful series end but at the same time it was joyous. I will never regret picking up Marked and I will never regret sticking with this series until the very end.
Along with this review, I have been given the opportunity to a House of Night Goddess Gift Giveaway. P.C. and Kristin Cast has partnered with companies like Sinful Colors, 21 Drops, Jamberry, Baby Blue Designs and For Strange Women to put together what they are calling "Goddess Gifts." You now have an opportunity to win one of these amazing gifts! Fill out the form below with your name and e-mail (to notify the winner only) and you will be entered to win. Contest ends a week from today on Wednesday, November 5th, winner will be contacted on Thursday.
Cover: 5/5
Writing: 5/5
Characters: 5/5
Overall Score,


I received a copy of this novel by Meryl L. Moss Media Relations, Inc. for my honest review.